Wilger Electronic Flow Monitoring System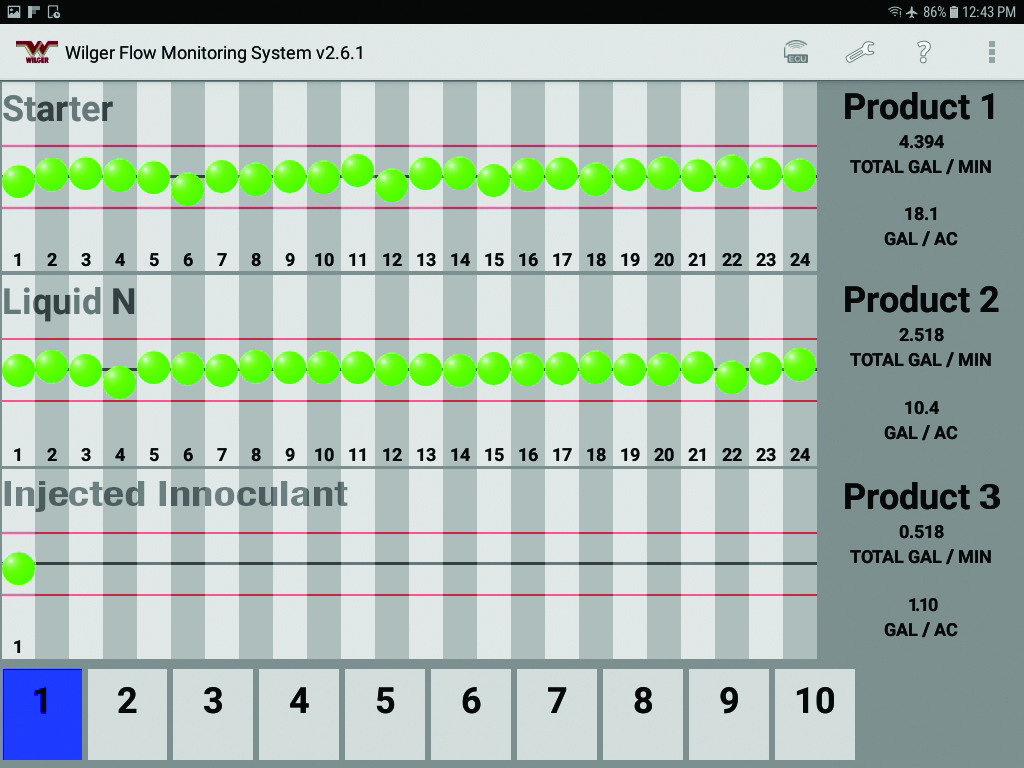 Wilger's Electronic Flow Monitoring System and Electronic Flowmeter are built from the ground up for consistency and dependability on the farm.
With an easily serviceable flowmeter and simple flow monitoring system app, it allows custom threshold monitoring for blockage and any rate irregularity.
The flowmeter becomes necessity with the importance of a consistent fertilizer or chemical application, which are plagued by blocked lines, incorrect orifices, blown product hoses, micro-dosing, and chemicals that are too dark to visually monitor. (E.g. humic acid (coffee black), Paralign™ Fertilizer (blood red), Copper mixes, etc.)
The system goes far beyond what a visual flow indicator system can provide, giving the actual flow row-by-row, instead of relying on pressure gauges, visual flow indicators or a single system flowmeter.
The EFM system can simply be retro-fitted to existing visual flow indicator assemblies, simply being added in-line with the common O-ring Seal (ORS) connections.
Wilger's Row-By-Row Flowmeters

The compact flow meter is different than your traditional flow meter in a lot of ways.
Material:
With the TPX polymer body, you get a non-stick surface, excellent chemical resistance, and a clear body that you can use to visually check that the paddle wheel is spinning for any troubleshooting.
Maintenance:
The flowmeters are made and designed by Wilger, ensuring every piece can be serviced and replaced; whereas often flowmeters are virtually impossible or impractical to service or even replace.
The only designed part that should wear out and effect accuracy should be the paddle wheel, which can simply be replaced in seconds.
Patent-Pending Stabilizing Jets:
The flowmeters have 4 different sizes of stabilizing jets that maintain better accuracy over the operating flow range of the flow meter. The operational ranges below optimize the jet to the application for peak accuracy; however, as long as the jet doesn't restrict the orifice flow, it can still be as a flow indicator (reduced accuracy).
Green Jet: 0.04 – 0.12 us gpm flow range
Red Jet: 0.10 – 0.31 us gpm flow range
Blue Jet: 0.18 – 0.98 us gpm flow range
Black Jet: 0.57 – 1.53 us gpm flow range
 The EFM makes monitoring dark liquids (or in the dark) a cinch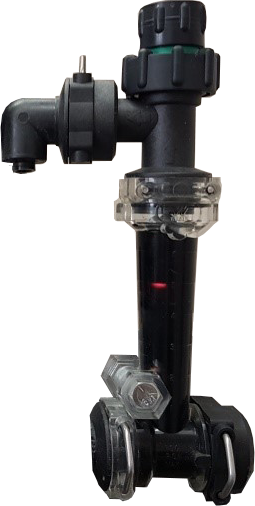 Visual ball flow indicator trying to show humic acid can become a difficult problem when visibility is poor.
As field sizes get larger, with the same amount of hours in the day, it is not uncommon to be planting in the dark. Coupled with a lot of applied products actually being dark liquids, even in the daytime, you can be planting in the dark.
As the flow monitoring system performs well with any liquids, colored or not, it becomes a truly valuable tool to have in the cab when you are planting with very little trustworthy feedback on how your liquid is applied (until it is too late). Simply plug in the EFM and harnesses, set the app up as you'd like it with custom threshold alarms, and continue on with your work.
EFM System Harnessing & Electronics
System Harnessing & Electronics

To maximize the flowmeter's compatibility with any systems capable of interpreting a raw pulse frequency, the flow meter's output is raw pulses. The simple feedback is straight-forward for system monitor manufacturers that operate on ISOBUS/CANBUS/etc to take in the flow rate for other purposes (mapping, variable rate tracking, etc.)
As such, we are continuing work with OEM system manufacturers and welcoming other system manufacturers to pull the EFM sensor feedback into their existing monitors and systems to be able to provide more value to their users.
We offer our current standard/retrofit options, using Agtron's electronics and controllers, which are highly regarded for their use in seed-blockage monitors. The same quality of electronics is available immediately for use to build an EFM system.
O-ring Seal (ORS) Metering and Plumbing Components
ORS Metering Orifices
O-ring seal metering orifices are accurate and large enough to make them easy to handle, so switching rates is easy.
Custom hole-size orifices and ISO-color coded orifices are available to match any rate required.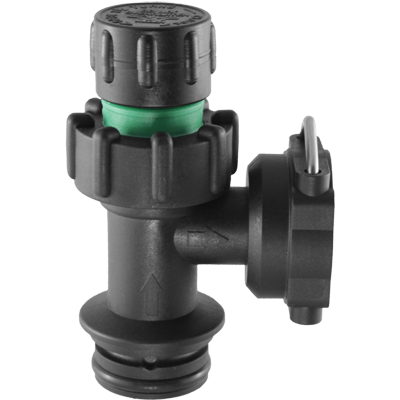 A variety of check valve options are available to act as a drip-check, but also keep stable back-pressure on the flow meter itself.
360° Range of Motion

All O-ring sealed fittings can be spun 360° without fear of leaking of pulling out.
This makes installation easy as the fittings pivot to where you need them to point.
Chemical Resistance
Find the below plastic compatibility chart, which compares TPX to other commonly used clear plastics like PVC.
TPX outperforms all other clear polymers in chemical resistance, cold/hot temperature rating, and more.
As a pro-tip for assembling a flow indicator system, using a small amount of lubricant, such as liquid silicone on the o-ring when fitting any ORS components together makes it a breeze.
The clear plastic used to make all Wilger flow meter bodies is very special. It provides the greatest amount of chemical resistance, while maintaining the best clarity at the same time.
Over time, as with all plastic, it deteriorates in long term exposure to UV (such as the sun). To combat this and to extend the life of the flow indicator columns, Wilger uses a UV inhibitor, but to further extend the clarity of the plastic flow indicator columns, it is best to cover them up whenever in use.
Having a flow meter bodies covered from UV will significantly increase the lifespan and clarity of the plastic.